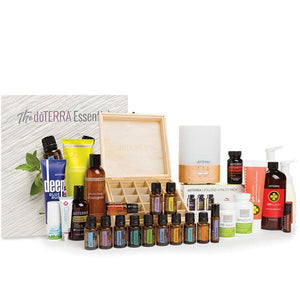 Limited Offer
Purchase any dōTERRA Enrolment Kit to receive the Introduction to Aromatherapy Online course for FREE!

(Value € 

72

)

Purchasing an Enrolment Starter Kit is a great way to get started. Your kit comes with 12 months free access to discounted pricing on all products through a dōTERRA Wholesale Member account.
+ We, at The Essential Oil Shop, provide you with free education and support - whatever your needs may be! 
Want to know the best ways to use the oils you are buying? Reach out to our Oil Expert on WhatsApp HERE 
This kit includes:
Essential Oils (15 mL):
Frankincense
Lavender
Lemon
Melaleuca
Peppermint
Wild Orange
Essential Oil Blends (15 mL):
doTERRA Air®
AromaTouch®
doTERRA Balance®
doTERRA On Guard®
PastTense®
doTERRA Serenity®
ZenGest®
OnGuard® Collection:
OnGuard Beadlets
OnGuard Foaming Hand Wash & Two Dispensers
OnGuard Softgels
OnGuard Whitening Toothpaste
Other Products:
doTERRA Air™ Vapour Stick
Correct-X®
ZenGest TerraZyme®
Deep Blue® Rub
Fractionated Coconut Oil
Lumo Diffuser
PB Assist+®
doTERRA Salon Essentials® Protecting Shampoo
doTERRA Salon Essentials® Smoothing Conditioner
doTERRA Essentials Booklet
Lifelong Vitality Pack® (Available in Vegan)
Wooden Box
SPECIAL NOTE:
When you enrol with this kit and have a minimum 100 PV Loyalty Rewards Order the following month, you will receive 100 PRODUCT POINTS, plus you start your LRP % at 15%.