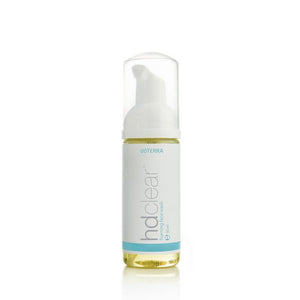 Description
HD Clear Foaming Face Wash is an exclusive formula containing many plant extracts known to improve the look and feel of skin. Designed with CPTG Certified Pure Tested Grade essential oils like Tea Tree (Melaleuca)–renowned for its purifying properties. This advanced formula also contains an active Licorice Root extract and White Willow Bark, which both help you to achieve a smooth complexion. Additionally, HD Clear Foaming Face Wash nourishes skin with amino acids while leaving the skin feeling fresh. HD Clear Foaming Face Wash is a effective cleanser for problem skin of all ages.
Primary Benefits
Tea tree (Melaleuca) is renowned for its ability to purify skin
Active Liquorice Root extract promote clear-looking skin with each wash
White Willow Bark extract promotes youthful-looking skin
A specialised algae extract helps to moisturise the skin
Uses
Incorporate the HD Clear Foaming Face Wash into your morning and nighttime beauty routine for optimal results.

Use the foaming face wash before applying lotion to rid skin of any impurities.

Have a teenager? Regular usage of the HD Clear Facial System may promote a clear complexion.

For best results, use in conjunction with the other products in the HD Clear Facial System.
What's Inside?
Full Ingredients List
Sometimes referred to as Gum Trees, Eucalyptus trees are evergreens that grow up to 15 metres in height. The main chemical components of Eucalyptus are eucalyptol and alpha-terpineol, which make this oil ideal for a soothing massage experience. Eucalyptus promotes feelings of relaxation when applied to the skin.
Geraniums are grown for their beauty and are a staple of the perfume industry. Use of Geranium essential oil dates back to ancient Egypt, where Egyptians used Geranium to beautify skin. Geranium has been used to promote the appearance of clear skin and healthy hair – making it ideal for skin and haircare products. Geranium essential oil's sweet, floral aroma can also be calming for the emotions.
Tea Tree essential oil – often referred to as "Melaleuca" essential oil – has over 92 different compounds and limitless applications. The leaves of the tea tree were used by the Aborigines of Australia for centuries. They would crush the leaves and apply directly to the skin for a cooling effect. Melaleuca is best known for its purifying properties. It can be used to cleanse and purify the skin and nails and to support a healthy complexion. Melaleuca is frequently used on occasional skin irritations and to soothe the skin.
Directions for Use
Pump foam twice into palm of hand. Apply foam onto damp face and neck and massage in an upward circular motion. Thoroughly rinse with water and towel dry. Use morning and night, follow with HD Clear Topical Blend and Facial Lotion. Avoid direct contact with eyes.
Cautions
For external use only. Avoid direct contact with eyes. If skin irritation occurs, discontinue use.