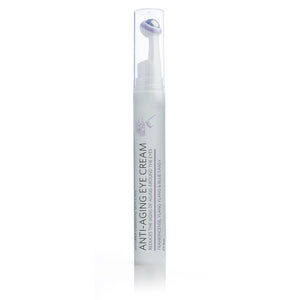 Description
dōTERRA Anti-Aging Eye Cream combines clinically proven ingredients with CPTG™ essential oils of Frankincense, Ylang Ylang, and Blue Tansy to target the signs of aging around the delicate eye area, helping to reduce the appearance of fine lines and wrinkles over time. This innovative formula moisturises and improves skin firmness and tone. The unique steel rollerball applicator cools and soothes under-eye skin helping reduce the appearance of puffiness while gently applying cream to targeted areas.
Primary Benefits
Wild Orange and Lime CPTG Certified Pure Therapeutic Grade

®

 

essential oils provide a cleansing and purifying boost to the skin.

Pumpkin enzyme assists in the exfoliation process without stressing or irritating the skin and assists in removing dead skin cell buildup.

Supports youthful-looking skin.
Uses
Incorporate the Anti-Aging Eye Cream into your daily beauty routine for optimal results.

Use to help prevent the signs of under-eye dark circles which occur naturally over time.

Easily use the specially-designed rollerball applicator to enhance your experience of the Anti-Ageing Eye Cream.

For best results, use alongside the Essential Skin Care line to further your experience of CPTG-infused skin care products.
Directions for Use
Press pump until small amount of product appears around the rollerball. Using gentle pressure, apply to under-eye area until absorbed. Use morning and night.
What's Inside?
Full Ingredients List
Blue Tansy, also referred to as Moroccan Tansy, is an annual yellow-flowered Mediterranean plant found in northern Morocco. This Tansy flower has a chemical makeup your skin will crave! Chamazulene, a chemical component in Blue Tansy, gives it its characteristic indigo colour. This essential oil is also known to benefit the skin. Add to a hot bath, use with your favourite skin care products or simply massage into skin!
One of the most prized and precious oils due to its rich aroma, Frankincense is often referred to as the "king" of essential oils. Centuries ago, ancient Egyptians used Frankincense resin for everything from perfume to salves for the skin. Its soothing and beautifying properties may be rejuvenating to skin and may help reduce the appearance of imperfections when applied topically.
Ylang Ylang essential oil is derived from the star-shaped flowers of the tropical Ylang Ylang tree. This essential oil is used extensively in making perfumes and in aromatherapy, and has been used in religious and wedding ceremonies for centuries. Ylang Ylang is frequently used in luxurious hair and skin products for its rich, sweet aroma and also for its protective properties. Ylang Ylang is also known to promote calmness and lift mood.

Cautions
If skin irritation occurs, discontinue use.