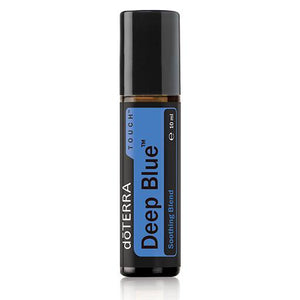 Description
Deep Blue Touch brings together eight essential oils known to comfort and cool joints and muscles. Wintergreen, Camphor, Peppermint, Ylang Ylang, Helichrysum, Blue Tansy, Blue Chamomile, and Osmanthus work together in a base of fractionated coconut oil to soothe the body. These essential oils provide rejuvenating benefits and comfort to the back, legs, and feet.
Uses
Massage into lower back after a day of heavy lifting.
Rub on fingers, wrists, shoulders, and neck after a long workday.
Dilute Deep Blue with Fractionated Coconut Oil and massage into growing kid's legs.
Apply to feet and knees before and after exercise for an invigorating and cooling effect.
Directions
Topical: Apply one to two drops to desired area. Dilute with doTERRA Fractionated Coconut Oil to minimise any skin sensitivity. See additional precautions below. 
Cautions
Possible skin sensitivity. Keep out of reach of children. If you are pregnant, nursing, or under a doctor's care, consult your physician. Avoid contact with eyes, inner ears, and sensitive areas.